Blueberries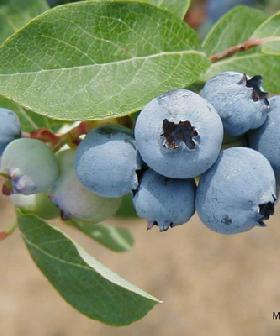 Blueberries are small fruits of a shrub tree, which belongs to the heath (Ericaceae) family. Other members of this family include cranberry, bilberry, azalea, mountain laurel and rhododendron. These berries grow in clusters and vary in size from that of the size of a pea, to the size of a marble. The colour often ranges from maroon to purple black. The flesh of the blueberries is semi-transparent and encases tiny seeds. The berries, which are cultivated are mildly sweet, whereas those which grow in the wild are more tart and tangy in flavour.
They are round and flattened in shape. They have a crown like structure at the bottom, and a depressed ring at the top of the fruit. Blueberries are usually around 1/2 inch in diameter. These berries are native

to North America, where they grow in abundance in the mountains, forests of US and Canada. On an average, there are about 30 different varieties of blueberries available. They were not cultivated until the start of the 20th century, when they were commercially cultivated in the year 1916.

Varieties of Blueberries
* Blueberry-Brigitta: This variety is a late season variety producing large, firm, and light blue berries. The shrub of this cultivar is upright and usually grows to a height of about 6 feet. The berry borne by the variety is large, crisp and rich in flavour and texture. Thus they make an excellent option for freezing as well as eating fresh. The fruits ripen towards the end of August
* Blueberry-Chandler: This variety of berries is large, firm and has a wonderful flavour. Each berry weighs about 2g. The bush is extremely attractive and grows low to a height of about 150 cms
Blueberry-Earliblue: As the name of the berry suggests, it matures early as compared to the other varieties. The berries borne by the tree are large, juicy and have a mild and sweet flavour. The berries grow in medium sized clusters and ripen in the beginning of July
*
Blueberry Top Hat: It is an extremely nutritious variety, which also makes for an extremely ornamental plant. The berries produced are extremely plump and and make an ideal ingredient in pies, muffins and jams
Uses of Blueberries
* Blueberries are best had in their raw form
* Frozen berries may be added to your breakfast shake to make it more zingy and lip smacking
* Dried berries can be added to the dull breakfast cereal to pep it up
* Blueberries added in yogurt and then frozen make an excellent low fat dessert. It can be topped with crystallized ginger for best results
* Blueberry jams, muffins, pies are the a favourite among people of all ages alike. They can be enjoyed throughout the year.

Health Benefits
Blueberries are a rich source of vitamins and minerals, and have various health benefits associated with them. Some of them include the following:
* Blueberries are one of the richest sources of antioxidants. The antioxidants play a pivotal role in keeping our body healthy and young. They help fight free radicals of the body, which damage the cells of the body as we grow older. They may also result in the degeneration of the DNA. Blueberries provide protection against the same
* These berries are rich in an anti-cancer agent, several, which helps combat the fatal disease
* They contain chemicals that are believed to decrease the growth of cervical and breast cancer cells by a considerable percentage
* Research has confirmed that blueberries not only slow the aging process but also reverse it
* Various experiments conducted have also indicated that eating blueberries improves short term memory loss and improves balance and coordination
* A compound found in blueberries called the pterostilbene, has been found to develop into a nutraceutical for lowering cholesterol
* If consumed regularly, these berries have shown to improve night time vision and promote quicker adjustment to darkness and faster restoration of visual acuity after exposure to glare
* They are also beneficial in reducing effects of age related conditions such as Alzheimer's or Dementia
* These wonder berries provide respite against both diarrhea and constipation
* They are rich sources of soluble and insoluble fiber and contain tannins, which act as astringents in the digestive system to reduce inflammation
* Regularly consuming blueberries helps in fighting urinary tract infections.
Free Blueberries
Simply you have to apply for Free Blueberries and will get your Free Blueberries at your door step with no any cost.
Click Here
, if you are Interested to get Free Blueberries. Advertise here