Boxwood plant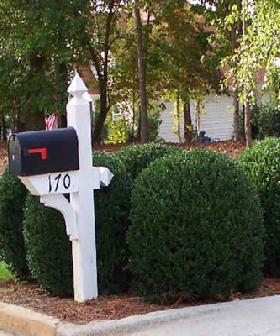 Boxwoods are extremely easy to grow evergreen shrubs botanically known as Buxus. They are a densely growing shrub with stiff branching and dark green, oval shaped leaves. Some varieties can easy be trained into tree form, topiaries and often pruned into imaginative and very formal shapes such as pyramids, cones, tiers, cubes, and spheres. These can even be sculpted into animal shapes though it can be a bit of a hassle to constantly trim them to remain in these unusual shapes. If left un-clipped some cultivars tend to grow softer and billowy.
Boxwoods, like most evergreen shrubs, prefer acidic soil, rich in loam and well draining. They take equally well to sun or shade but in hot climates shade is required to keep the leaves from burning or the color from fading in the sun. Unfortunately, they are often attacked by nematodes if grown in hot humid tropical regions. Some cultivars need protection from severe winter winds and experience some winter burn on leaves during exceptionally harsh winters even when planted within their hardiness zones.
Buxus Microphylla Japonica, the Japanese Boxwood, hardy to zone 6, has a compact form and tiny leaves one third to 1 inch long. Leaves are bright green with round tips. They don't look very pretty during fall and winter, however, when leaves turn brown or bronze. Though it grows very slowly 4-6 feet tall it can be maintained as low as 6 inches for border edging. The Japanese Boxwood is the only one that actually can tolerate alkaline soil and dry heat. The cultivar "Compacta" is perfect for the rock garden and topiaries as it is an extra-dwarf plant very slow growing with little baby leaves. Other good cultivars to try are "Green Beauty" which holds its color a bit better in summer sun and winter cold, "Kingsville Dwarf" a very compact and slow grower and "Winter Gem" the hardiest of the Japanese Boxwoods.
Buxus Microphylla Koreana, the Korean Boxwood, grows even slower and lower than the Japanese with tinier leaves one quarter to half inch long and is hardy to zone 5.
Boxwoods are more often than not grown as hedges and to line flower beds in the case of the English Boxwood, Buxus Sempervirens "Suffruticosa". These are often seen in perfect, neat rows all around the perimeter of herb gardens, annual and perennial beds or just lining walkways and garden paths. The English Boxwood grows 4-5 feet high but can be maintained lower if desired. They have rather small leaves and have a dense form and texture. Their slow growing habit

Care for Boxwood Shrubs:
Pruning is done for aesthetic purposes, but as a practical issue, remember to mulch English boxwood shrubs. Their roots are shallow, so they must be protected from the heat. Maintain a layer of organic mulch, 3 inches thick. Start mulching at the trunk, and work your way about 1 foot outwards, around the whole circumference.
Sun and Soil Requirements for Boxwood Shrubs:
English boxwood shrubs require well-drained soils, or they'll suffer from root rot. Although they may tolerate soils with a lower pH (as I can vouch for, personally), certified soil scientist, Victoria Smith notes that they prefer a soil pH in the 6.8-7.5 range. They'll take full sun to partial shade, but planting them in a partially shaded area is preferable. For, when sheltered by trees, the roots of dwarf English boxwoods will profit from the cooler soil temperatures.
Uses for Boxwood Shrubs in Landscape Design:
English boxwood shrubs make good specimens. But they're often grouped together in foundation plantings or hedges. Dwarf English boxwoods are famous for their use in formal landscape design. Their amenability to pruning makes them popular in knot gardens and as topiary and bonsai plants. Other uses for English boxwood shrubs extend beyond the life of the plant. As a cut evergreen for the holiday season, English boxwood is used in wreaths, garlands, kissing balls and topiary "tree" arrangements
Light: Sun,Part Sun
Zones: 5-8
Plant Type: Shrub
Plant Height: To 15 feet tall
Plant Width: To 15 feet wide
Flower Color: White, Blue-Green Leaves, Variegated Leaves
Bloom Time: Spring
Landscape Uses: Containers,Beds & Borders,Privacy,Slopes,Groundcover
Special Features: Attractive Foliage,Fragrant,Winter Interest,Deer Resistant

Free Boxwood plant
Simply you have to apply for Free Boxwood plant and will get your Free Boxwood plant at your door step with no any cost.
Click Here
, if you are Interested to get Free Boxwood plant. Advertise here