Ageratum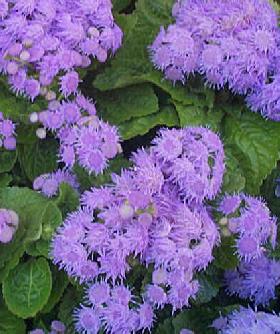 Light: Sun,Part Sun
Plant Type: Annual
Plant Height: 6-36 inches tall, depending on variety
Plant Width: 6-18 inches wide, depending on variety
Flower Color: Blue, lavender, white, or rose blooms, depending on variety
Bloom Time: Blooms all summer and into fall
Landscape Uses: Containers,Beds & Borders
Special Features: Flowers,Easy to Grow
Ageratum are among the prettiest garden blues, growing well in sun or partial shade, from early summer to frost. Growing Agertautm is easy. They produce a profusion of fluffy flowers all season long. They are excellent plants for beginner gardeners. The blues are most popular, providing colorful accent. Flower colors also include pink and white. Ageratum are native to tropical regions of South and Central America.
Their size and color makes Ageratum good candidates for rock gardens, flower beds, and containers.
Propagation:
Ageratum are grown from seeds. Sow Ageratum seeds outdoors, after all danger of frost. Or, start indoors 6-8 weeks before the last frost date for your area.
How to Grow Ageratum:
Ageratum prefer full sun to partial shade. They will tolerate a fair amount of shade. They will do well in both average and poor soils. They are tolerant dry soil conditions.
Space plants 6-8 inches apart.Water well, when planting.
Add a general purpose fertilizer once or twice a season.
Compact plants grow just 6-8 in. tall.
Insect and Disease:
The most common insect problem are mites. Most insect problems can be effectively treated with insecticidal soaps and milder insecticides like Sevin.
Disease problems are not very common. If problems occur, treat early with a fungicide.
Free Ageratum
Simply you have to apply for Free Ageratum and will get your Free Ageratum at your door step with no any cost.
Click Here
, if you are Interested to get Free Ageratum.