Dill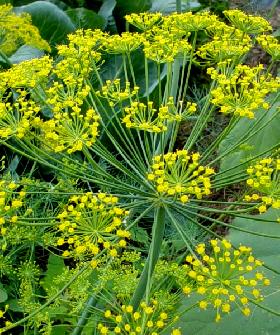 Light: Sun

Plant Type: Annual,Herb

Plant Height: 1-3 feet tall

Plant Width: 1/2-2 feet wide

Flower Color: Chartreuse flowers

Bloom Time: Flowers in midsummer

Landscape Uses: Containers,Beds & Borders

Special Features: Flowers,Fragrant,Dried Flowers,Attracts Butterflies,Drought Tolerant,Deer Resistant,Easy to Grow
For versatility in the garden, it's hard to beat beautiful, easy-grows-it dill. This herb fills a planting area with a fountain of graceful, delicate foliage. Flat flower heads beckon butterflies, bees, and other good bugs. Snip tasty foliage to flavor home-cooked fare, from potatoes, to soups, to egg dishes. Save seeds for seasoning bread, stews, root vegetable dishes, and pickles. Dill thrives in dry, sunny spots, and plants self-seed to keep the crop coming year after year. To ensure a steady supply of foliage for snipping, sow seeds every four weeks during the growing season.
Green lacewings, an aphid predator, frequent dill plantings, making dill a great companion for roses and other aphid favorites. Black swallowtail butterflies lay eggs on dill. Look for black, green, and yellow striped caterpillars munching their way along stems.
Free Dill
Simply you have to apply for Free Dill and will get your Free Dill at your door step with no any cost.
Click Here
, if you are Interested to get Free Dill. Advertise here