Chives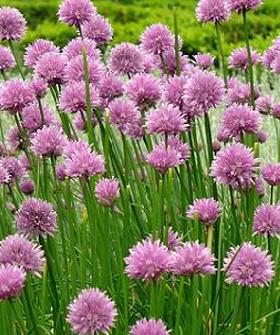 Light: Sun, Part Sun

Zones: 3-10

Plant Type: Perennial,Herb

Plant Height: 8-18 inches tall

Plant Width: 8-12 inches wide

Flower Color: Pink to lavender globe-shape flowers

Bloom Time: Pink flowers in midspring to early summer

Landscape Uses: Containers,Beds & Borders

Special Features: Flowers,Attractive Foliage,Fragrant,Attracts Butterflies,Deer Resistant,Easy to Grow
Chives grace the garden with bright green stems and pinkish-purple pom-pom blooms -- all of which offer a distinctly mild onion flavor. Versatile and easy-growing, chives thrive in containers and also form an eye-catching edging in planting beds. Place chives with convenient harvest in mind; a pot near the kitchen door keeps garden-fresh flavors close at hand. After chives flower, cut plants to encourage new growth, trimming a portion of the clump at a time. In wintry regions, as the growing season winds down, dig up a few bulbs to tuck in a pot for on a sunny windowsill.
Free Chives
Simply you have to apply for Free Chives and will get your Free Chives at your door step with no any cost.
Click Here
, if you are Interested to get Free Chives.