Borage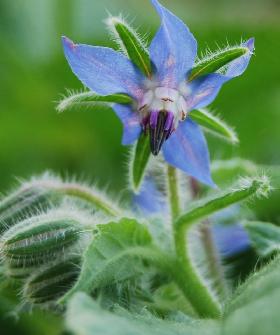 Sparkling periwinkle-blue blooms dance atop borage's fuzzy stems and leaves. A beauty in the garden, annual borage faithfully comes back from seed each year, quickly filling in a space. Harvest edible flowers to beautify salads, summer drinks, or desserts. Toss blooms onto fanned tomato and mozzarella slices for a festive Fourth of July feast. Freeze flowers in ice cubes to decorate drinks with cool color. Borage will flower indoors in containers if given heat and plenty of light. In the garden, pull seedlings judiciously in spring.
Light: Sun

Plant Type:Annual,Herb

Plant Height: 1-3 feet

Plant Width: 1/2-2 feet wide

Flower Color: Periwinkle-blue blooms, rarely pink or lavender flowers

Bloom Time: Flowers open from spring to fall frost

Landscape Uses: Containers,Beds & Borders

Special Features: Flowers,Attracts Butterflies,Drought Tolerant,Deer Resistant,Easy to Grow
Free Borage
Simply you have to apply for Free Borage and will get your Free Borage at your door step with no any cost.
Click Here
, if you are Interested to get Free Borage. Advertise here