Basil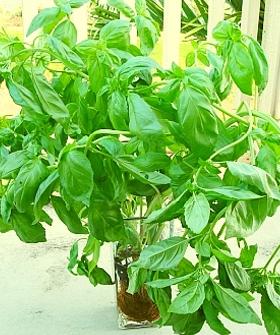 Light: Sun,Part Sun

Plant Type: Annual,Herb

Plant Height: 1-3 feet tall

Plant Width: 1-3 feet wide

Landscape Uses: Containers,Beds & Borders

Special Features: Deer Resistant,Easy to Grow
Basil dishes up classic Italian flavor in eye-catching bushy plants suitable for garden beds or containers. Grow this tasty beauty in a sunny spot, and you'll reap rewards of flavorful foliage in shades of green, purple, or bronze. Basil lends a distinctive taste to salads, pizza, and pasta dishes. Use small leaves whole; chop larger leaves. Add leaves to dishes just before serving for greatest taste and aroma. Basil plants are exceedingly sensitive to cold; start seeds indoors or sow outside after all danger of frost has passed.
Free Basil
Simply you have to apply for Free Basil and will get your Free Basil at your door step with no any cost.
Click Here
, if you are Interested to get Free Basil.