Privet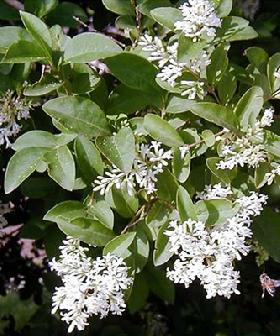 This Privet is a very versatile plant. It has been used to make walls, tall barriers, sound barriers, you can let it grow to 15 ft. or trim it any way you want, make arches, low to the ground fences, make it thick, thin and anything in between.
The privet I market is the European Privet Ligustrum Vulgare It is very thick, much thicker than the California Privet, the leaves are much darker and heavier, and grows faster than the California Privet. This year I had the opportunity to go to upstate New York State, Specifically South Hampton. I was curious to see their privets.
The "Hamptons" are famous is their privets. Everybody who is anybody in the Hamptons has privets and some of them are meticulously manicured while others go completely ignored most likely on purpose, probably to show a contrast. The privet they use is the same I have been marketing all the time, the humble Ligustrum Vulgare Contrary to what you may have read on the net, this privet is not invasive. I have had it for at least 20 years,
This privet will keep the leaves over the winter in zone 6 and South. Here in PA where I am, Zone 5/6, it keeps the leaves most winters if the temperature does not go below 10 degrees. If it does, the leaves turn black and hang on for the longest time, sometimes until Spring. Seldom my plants drop all their leaves. pH requirement for this bush is between 6 and 7.5.
How to plant a privet hedge
To plant a privet hedge select at least year-old stock and space them about 30cm (12in) apart and at least 45cm(18in) away from a boundary. To plant them, follow the guidelines in this article watering well.
The best time to plant your privets would be in the spring and this is also a good time to fertilise using a good slow-release fertiliser (sheep manure is ideal). You shouldn't need to mulch the soil as the hedge when it's grown but as it begins to grow this may be helpful for water retention and suppression of weeds.
How to prune your privet hedge
The start of spring is also the ideal time for pruning your hedge. The ideal site to look at in terms of pruning is Purdue University's Department of Horticulture, which gives a 6 year pruning diagram for hedges.
Each year your privet hedge will require pruning after the initial shaping and this can be done easily with a mechanical hedge trimmer or pair of pruning shears.
Tips & Warnings
The common privet is suitable for planting in Hardiness Zones 4 through 7. Check with your local nursery or garden center for cultivars suited for your area.

Keep the shrub well watered. During the first and second year after transplant, provide about an inch of water per week.

There are many privet cultivars available. Pyramidale is commonly used as a hedge because of its pyramindal shape. It is also hardy.

Before mulching the planting area, create a basin around the shrub so water will be directed towards the roots.

The privet should be pruned immediately after flowering in the spring. Pruning can also be done before blooming to remove the flowers. Some people find the scent of the privet flowers unpleasant. The privet tolerates shearing.
Free Privet
Simply you have to apply for Free Privet and will get your Free Privet at your door step with no any cost.
Click Here
, if you are Interested to get Free Privet.