Zinnias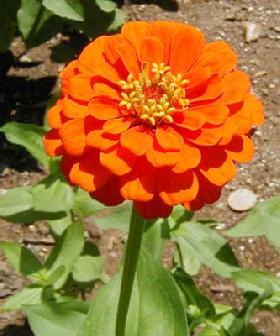 Zinnias are true American natives that originated from the Southwest US, Mexico and Central America. The original was a purplish wildflower that grew in the Mexican deserts. Hybridizers have turned it into one of the most popular bedding plants.
Zinnias grow to between 6 and 40 inches in height with single and double blossoms varying in diameter from less than an inch to 7 inches. The petals can be any of a wide range of colors or multicolored.
Sow seeds indoors six weeks before the last frost and plant outdoors after frost danger is past as young plants are susceptible to chilling cold. They will not grow substantially until temperatures are above 50 degrees. Zinnias are one of the easier annuals to start from seeds. Sow the taller varieties in 3 inch peat pots because they resent transplanting. Alternatively, seeds can be sown directly outdoors when the soil has warmed sufficiently. Pinch the tops out of young plants when they are 4-6 inches high to make them bushy. Remove faded blossoms to keep them producing. Plants should be spaced 4 to 12 inches apart according to variety.
If you provide a reasonably fertile, well drained soil, your zinnias will do well. They are subject to mildew if they do not have good air circulation. In hot, humid climates, a midsummer replacement sowing may be useful in cutting gardens. Taller varieties may need to be staked.
Zinnias perform well massed in beds, used as an edging, in rock gardens, in pots and containers, or as background plants. They make excellent cut flowers. Scald the stems after picking and change vase water every couple of days. Zinnias attract butterflies.
Facts About Zinnias
The name of the genus derives from the German botanist Johann Gottfried Zinn's name
There are two species of zinnia that occasionally obtain attention as ornamental plants, the Zinnia grandiflora and Zinnia tenuifolia.
The common Zinnia of gardens, Zinnia elegans, is also called youth-and-old-age.
The most popular bedding plants, Zinnias originally grew as wildflowers native to the southwest United States, Mexico and Central America.
Growing Zinnias
Generally, Zinnias are grown from seed.
Zinnias need fertile, humus-rich, and well-drained soil. They reseed themselves each year.
Zinnias need full Sun.
Zinnias like rich, well drained soil. Good soil quality will produce much healthier plants and flowers.
Sow the zinnia seeds by putting one seed in approximately every square foot.
Lightly rake the seed bed, and plant the seeds about 1/4 inch deep.
Apply fertilizer as needed.
Water the seed bed.
Add a general purpose fertilizer once a month.
Water Zinnias during dry periods, once or twice per week. Soil should be moist, but not wet.
Add mulch around the plants for appearance and to keep weeds down.
Zinnia Plant Care
Remove dead flower blooms to encourage new growth and new blooms.
Improve appearance of Giant Zinnias by trimming back stems that have grown long, but do not over trim them.
Zinnias are annuals and are susceptible to frost. They may survive the first light frost with only a little damage.
Zinnias will not survive a hard frost or freeze.
Zinnias are a little resistant to insects and disease.
If insect or disease problems occur, treat Zinnias early with organic or chemical

insect

repellents

and fungicide.
Type: annual
Propagation: seeds
Light: full sun
Flower Color: various
Bloom Time: early summer to early autumn
Height: 5-40 inches, most about 30 inches
Soil Requirements: most any soil, good drainage, neutral or alkaline pH
Zones: all
Uses: cutting bed, border, containers, butterfly gardens.

Free Zinnias
Simply you have to apply for Free Zinnias and will get your Free Zinnias at your door step with no any cost.
Click Here
, if you are Interested to get Free Zinnias . Advertise here