Yarrow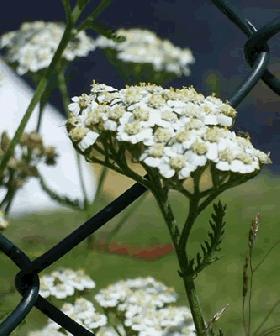 Yarrow has been valued since ancient times for its ability to stop bleeding, hence its folk name "nosebleed." Today, yarrow is valued for its ability to fight off colds and flu. It is also an ingredient in many herbal cosmetics. Dried and cut flowers are used in arrangements.
Flowers heads are flat and 2" to 6" across on 2' to 5' stems. Colors include white, yellow, gold, pink and red. The aromatic foliage is green or gray.
Cultivation
Yarrow is an undemanding plant that thrives even in poor soil but does best in a sunny position with good drainage and light soil. Yarrow grows well in zones 3-8 with some cultivars extending to zone 10. Plants are susceptible to disease in humid areas.
Propagate from seeds, by root division or from woody cuttings taken in autumn or spring. They can take a year or two to establish themselves from seed. Place the plants 1-2 feet apart and divide the clumps when they become crowded. Taller cultivars may need to be staked, especially if grown in very fertile soil.
Sun and Soil Requirements for Yarrow Plants:
Grow yarrow plants in full sun and in well-drained soil. Drought-tolerant once established.

How to Care for a Yarrow Plant: Besides the common yarrow plant which is usually a white or a pale yellow, other species bears some very vivid colors of yellow, gold, pink, lavender and red. Yarrow is easy to grow for it just needs a sunny spot with good drainage. Soil quality is not an issue with this plant. It can even tolerate dry conditions. They do well in USDA zone 3 - 8. They can be propagated through seeds, rhizomatous root division, of soft wood cutting in autumn or spring. Sow seeds in a light grainy soil and transplant when they reach a four leaf stage. Division of roots and cutting is a preferred method to propagate them as seedling take more than a year to establish themselves.

Plant seedlings or the divided roots two feet apart, or a single plant in a pot. Never excessively water them, water only when the topsoil dries. They don't need any fertilization too. Taller varieties need to be staked. Divide the clumps once it gets too crowded, every couple of years. Yarrow plant is quite pest resistant, except for the fungal disease; mildew. Mildew causes grayish spots on leaves, and occurs when the plant does not have adequate air circulation or is grown in humid conditions. A spray of sulfur with some water takes care of mild infection, but for a severely infected plant, it is better to get rid of the infected plant, and restart with a new growth.
Disease

Mildew
Mildew is a fungal disease which causes grayish downy spots on leaves. Plants which do not have adequate sunshine or air circulation, or those grown in humid climates are most susceptible. Spray with sulfur early in the morning while foliage is still slightly moist with dew. Badly infected plants should be cut down and destroyed.
Medicinal Uses
Do not use yarrow during pregnancy, for undiagnosed bleeding, or for more than two weeks.
Use flowers, leaves and stems.
A piece of the plant held against a wound will staunch bleeding.

An infusion can help to break a fever.

A tea made from yarrow with peppermint and elderflower can be used to fight colds and flu.

Yarrow can be of benefit in mild cystitis.

Promotes digestion.

Improves circulation by acting as a vasodilator.

Lowers blood pressure.
Other Uses
Adds color to a border. The flat heads add contrast to mounding or spiky plants.

Use in fresh arrangements.

Makes attractive dried flowers if cut before the sun bleaches them. To dry the flowers, cut them at their peak before they start to fade and hang them head-down in clusters of six to 12 in a dry, airy place out of the sun.

Fragrant addition to potpourri.
Free Yarrow
Simply you have to apply for Free Yarrow and will get your Free Yarrow at your door step with no any cost.
Click Here
, if you are Interested to get Free Yarrow. Advertise here