Verbena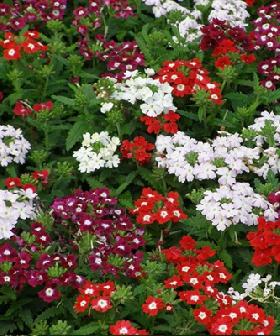 Verbena is one of those garden essentials that bloom from spring to fall with very little fuss. In frost-free climates it is grown as a perennial, but most of us will have to grow it as an annual. Plants grow in clumps that reach a height of six to ten inches. Flowers can be mauve, purple, white, pink, apricot or red. Verbena is a popular hanging basket plant, and it also looks good in rock gardens or as an edging, and in window boxes. You'll find them in your local garden center in little pots and big hanging baskets, but you don't need to spend a lot of money on verbena because they are easy to grow from seeds.
These charming little plants are relatively carefree. In fact, the main cause of problems with verbena is over-pampering, especially overfeeding and overwatering. There are just three things you will need to do to keep your plants healthy and blooming all season.
1. Deadheading
Deadheading is picking off the faded blooms. If you don't deadhead your verbena, it will quit blooming. This doesn't have to be a tedious task. Just clip off the top 1/4 of the stems that hold the faded flowers once the blooms are spent. If you forget, clipping out the tops of the stems will encourage your plant to rebloom in 15-20 days.
2. Fertilizing
This is easy! Verbena needs to be fertilized only once a year – in spring when the plants are about 4" tall. Use a complete fertilizer, and don't fertilize verbena plants when you first set them out in the garden. Wait until they are established and growing.
3. Watering
When you first plant verbena, you should water regularly until the plants are happy and well established. Thereafter, water them only when very dry.
Starting from seeds
Verbena is easy to start from seeds, but the seeds might take as long as a month to germinate, so don't give up on them too soon. Start the seeds indoors in late winter or early spring in individual peat or fiber pots. Place two seeds in each pot, and barely cover them with potting soil. Once they have 3-4 leaves per plant, clip out the weakest plant from each pot.
Harden off your plants by moving them outdoors for a few hours each day before planting them in the flowerbed. For more information about hardening off your transplants, see Bracing Up: Hardening Off Transplants. Once your seedlings are planted out and growing well, pinch out the center shoot in each plant for bushier growth.
Plant verbena in the sunniest, best drained part of your garden. The plants will need 8-10 hours of sun each day, and should never sit long in soggy soil. Space plants 10-12 inches apart.
Potential Problems
Verbena needs 8-10 hours of direct sunlight every day and a well-drained soil. Plants that are kept too moist and don't get enough sun are susceptible to powdery mildew and other diseases. Plant verbena in the sunniest location in your garden to prevent this problem.
Spider mites and thrips might become a problem if your plants aren't kept healthy. Use Soap-Shield to control these insects.
Saving plants for next year
You can save your favorite verbena plants by digging them up and bringing them inside before cold weather sets in. Grow your plants in hanging baskets or pots over winter, and in spring you can take cuttings for the garden.
Plant Category - Verbena can be either annual or perennial but most of what is offered in garden centers are annual or tender perennial plants. Certain cultivars may be hardy to zone 6 but others are tender and will die after a frost.
Bloom Time and Color - Most verbena plants begin blooming in the summer and can continue until first frost. Verbena flower colors include solid and bicolored blooms in red, purple, white, yellow, orange, and peach with generally white or cream colored eyes.
Foliage - The leaves of the verbena are typically thin, lance shaped leaves in medium green. The fine cut foliage is attractive and combines well with other plants.
Growth Habit - Verbena tends to have a loose, sprawling growth habit that makes it nice for containers and hanging baskets. The verbena flowers are five-petaled and very tiny individually, however they grow in beautiful clusters or domed heads held above the foliage. Some cultivars are called 'Trailing Verbena' because of the loose, trailing form.
Dimensions - Verbena plants come in a wide variety of sizes from just a few inches tall to several feet. Be sure to check the label when you purchase plants to be sure the Verbena will perform the way you want.
Preferred Conditions - Verbena do best in in sunny sites but will tolerate a wide range of soils as long as it is well-drained. Many verbena will tolerate partial shade.
Maintenance - Verbena requires little maintenance beyond periodic watering and light pruning to maintain shape if the gardener wants bushier, less trailing growth. If the flowering begins to stall, deadhead and prune the plant back to encourage reblooming.
Pests or Diseases - Verbena plants have few significant pest or disease problems but in soggy conditions mildew can occur so be sure the soil is well-drained.
Propagating and Using Verbena in the Garden
Propagation Methods - Verbena hybrids are now being offered in seed packets which should be started indoors a few weeks before last frost. Many gardeners take summer cuttings and overwinter the stems indoors and preserve their verbena that way.
Companion Plants - Verbena combine well with other butterfly attracting plants such as Dill, Delphinium, Echinacea, Solidago and Sunflower. Consider pairing verbena with other container plants for dramatic plantings.
Seasons of Interest - Verbena is attractive through the entire growing season but does not provide winter interest.
Uses in the Garden - Verbena is perfect for containers and hanging baskets. Also use verbena in butterfly gardens, for a child's garden for its easy care, in mixed borders, beds, or wherever a splash of mid-summer color is needed.
Type: annual
Propagation: seeds, cuttings
Light: full sun
Flower Color: shades of red, pink and purple
Bloom Time: spring through early autumn
Height: 6-10 inches
Width: 12 inches
Soil Requirements: well drained
Zones: all
Uses: edging, rock gardens, pots, hanging baskets

Free Verbena
Simply you have to apply for Free Verbena and will get your Free Verbena at your door step with no any cost.
Click Here
, if you are Interested to get Free Verbena. Advertise here