Torenia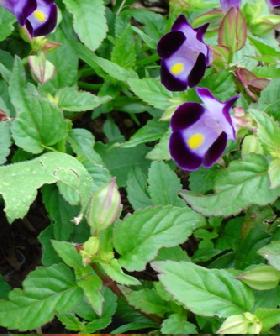 Among the few summer annuals that grow equally well in sun or semi-shade. Plants make a compact, upright bush of eight to twelve inches in height. The pale violet flowers have deep purple blotches on the lower petals with yellow inside. The cool colors are a welcome relief during the heat of summer. Flowers bloom throughout the summer and autumn, and make good companions for hostas, ferns and impatiens.
Torenia needs a warm climate and well-drained, compost-enriched soil. Because the seeds are very tiny and slow-growing, it's best to start them indoors ten weeks before the last expected frost. Cover the seeds lightly with soil and water from the bottom to avoid dislodging the seeds. Transplant the seedlings outdoors at six to eight inch intervals when they are large enough to handle.
Keep the plants well watered, especially in hot, windy weather, but be careful not leave the plants standing in water. Apply soluble plant food regularly to help maintain growth throughout the long flowering period. Watch for slugs. Deadheading is not necessary, and the seedheads are quite attractive. Plants will sometimes self-seed, so watch for the tiny, fragile seedlings in the spring.
•Growth habit: An upright to sprawling annual growing to 12 inches tall and twice as wide. The leaves are medium to dark green, ovate in shape with a coarsely toothed margin and growing to 2 inches long and half as wide.
•Light: Plant in sunny to shady locations.
•Water needs: Prefers a moist soil. Water when the surface soil begins to dry; usually every 3 to 4 days for in ground plantings and every day for container plantings during hot dry weather.
•Feedings: Apply a general garden fertilizer to in ground plantings monthly and every other week for container plantings if needed for growth. Slow-release products can be substituted.
•Propagation: Start new plants from seed or cuttings.
•Ease of culture: Easy.
•Hardiness: Tender; only grows well during the warmer months.
•Major problems: Prevent root rot problems by planting in well-drained soil. Also avoid areas know to be affected by nematodes. Aphids are occasional pests of new shoots and can be controlled with insecticidal soaps if needed.
•Pruning: Groom plantings to remove old seed heads and encourage additional blooms. Keep sprawling plants in bounds by removing excessive growth.
•Uses: Torenia, also called wishbone flower and summer pansy, loves the hot weather and is ideal for flower beds and container gardens including hanging baskets. The flowers open in clusters above the foliage in shades of purple, blue, yellow and pink. Many have a yellow spot of color in the throat of each blossom. Plantings are usually added to the landscape May through September and give several months of color.
• Florida native: No; native to Vietnam.
Free Torenia
Simply you have to apply for Free Torenia and will get your Free Torenia at your door step with no any cost.
Click Here
, if you are Interested to get Free Torenia. Advertise here