Tomatoes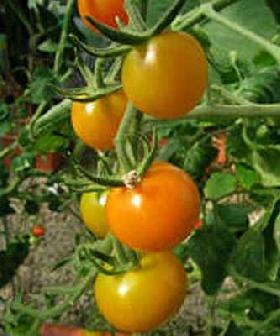 Tomato, is today the most popular garden vegetable in America. For many years, however, tomatoes (then called "love apples") were considered poisonous and were grown solely for their ornamental value. Tomatoes are usually easy to grow and a few plants provide an adequate harvest for most families. The quality of fruit picked in the garden when fully ripe far surpasses anything available on the market, even in season. The tomato plant is a tender, warm-season perennial that is grown as an annual in summer gardens all over the continental United States. Spring and fall freezes limit the outdoor growing season.
Recommended Varieties
Hundreds of varieties of tomatoes are now available for the home gardener. They range widely in size, shape, color, plant type, disease resistance and season of maturity. Catalogs, garden centers and greenhouses offer a large selection of tomato varieties and choosing the best one or two varieties can be extremely difficult. Evaluate your needs, then choose the varieties best suited to your intended use and method of culture.
Tomato plants fall into one of two types that affect ultimate plant height and cultural requirements. Tomatoes are determinate if they eventually form a flower cluster at the terminal growing point, causing the plant to stop growing in height. Plants that never set terminal flower clusters, but only lateral ones and continue indefinitely to grow taller are called indeterminate. Older varieties are almost all indeterminate. These can be counted upon to produce abundant foliage and to ripen flavorful fruit. They may, however be extremely late in maturing. The first determinate varieties developed had real problems with inadequate foliage cover and taste, but they ripened very early. Newer determinates produce better foliage, may grow taller and ripen fruit of similar quality to modern indeterminate varieties. They still tend to ripen their fruit over a shorter period of time, so successive plantings may be desirable with determinates to keep the harvest coming through the entire season. Determinate vines are easier to control and support during the growing season. Some of the extreme dwarf types are determinate as well as dwarf, producing some truly tiny mature plants.
When to Plant
Buying transplants or starting seeds indoor early, gets tomatoes off to the best start in the garden when warm weather finally arrives and it saves several weeks in growing time. Some gardeners transplant their tomatoes soon after the soil is prepared for spring gardening, when there is a high risk of damage from freezing. Be prepared to cover early set plants overnight to protect them from frost. For best results with very early plantings, consider black plastic mulch and floating row covers for heat accumulation and frost protection. For best results with minimal risk, plant when the soil is warm, soon after the frost-free date for your area.
For fall harvest and early winter storage of tomatoes, late plantings may be made from late spring until mid-summer, depending on the length of the growing season. These plantings have the advantage of increased vigor and freedom from early diseases, and they often produce better quality tomatoes than later pickings from early spring plantings. Time late plantings for maximal yield before killing freezes in your area (up to 100 days from transplanting for most varieties).
Spacing & Depth
The space required depends upon the growth pattern of the variety and method of culture. Space dwarf plants 12 inches apart in the row, staked plants 15 to 24 inches apart and trellised or ground bed plants 24 to 36 inches apart. Some particularly vigorous indeterminate varieties may need 4 feet between plants and 5 to 6 feet between rows to allow comfortable harvest room.
Care
Apply starter fertilizer when transplanting. Hoe or cultivate shallowly to keep down weeds without damaging roots. Mulching is recommended, especially for gardeners who wish to maintain their plants for full season harvest. Black plastic or organic materials are suitable for mulching. Delay application of organic materials until after the soil has warmed completely in early summer so that growth is not retarded by cool soil temperatures early in the season.
Water the plants thoroughly and regularly during prolonged dry periods. Plants confined in containers may need daily or even more frequent watering. Side-dress nitrogen fertilizer (ammonium nitrate) at the rate of one pound per 100 feet of row (equivalent to 1 tablespoon per plant) after the first tomatoes have grown to the size of golf balls. (If ammonium nitrate is not available, use 3 pounds of 10-10-10 fertilizer.) Make two more applications 3 and 6 weeks later. If the weather is dry following these applications, water the plants thoroughly. Do not get fertilizer on the leaves.
Many gardeners train their tomato plants to stakes, trellises or cages with great success. Not all varieties, however, are equally suitable for staking and pruning.
Tomato cages may be made from concrete-reinforcing wire, woven-wire stock fencing or various wooden designs. Choose wire or wooden designs that have holes large enough to allow fruit to be picked and removed without bruising. The short, small, narrow type often sold at garden centers is all but useless for anything but the smallest of the dwarf types. Most modern determinate tomatoes easily grow 3 to 4 feet tall and indeterminates continue to get taller until frozen in the fall, easily reaching at least 6 feet in height. Use cages that match in height the variety to be caged and firmly anchor them to the ground with stakes or steel posts to keep the fruit-laden plants from uprooting themselves in late summer windstorms.
Trellis-weave systems have recently been developed for commercial operations and can work just as well in a garden planting. Tall stakes are securely driven into the tomato row about every two or three plants in the row. Make sure the stakes are tall enough to accommodate the growth of your tomato varieties and make sure they are driven very securely into the ground to prevent wind damage. (The woven rows of tomatoes can catch much wind.) As the tomatoes grow upward, strings are attached to the end posts and woven back and forth between the supports, holding the tops of the plants up and off the ground. This operation is repeated about as often as the tomatoes grow another 6 inches, until the plants reach maturity. The fruit is held off the ground as with staked or caged plants; but the foliage cover is better than with staked plants, and the fruit is more accessible than with cages.
Harvesting
Tomatoes should be firm and fully colored. They are of highest quality when they ripen on healthy vines and daily summer temperatures average about 75°F. When temperatures are high (air temperature of 90°F or more), the softening process is accelerated and color development is retarded, reducing quality. For this reason, during hot summer weather, pick your tomatoes every day or two, harvest the fruits when color has started to develop and ripen them further indoors (at 70 to 75°F). On the day before a killing freeze is expected, harvest all green mature fruit that is desired for later use in the fall. Wrap the tomatoes individually in paper and store at 60 to 65°F. They continue to ripen slowly over the next several weeks. Whole plants may be uprooted and hung in sheltered locations, where fruit continues to ripen.
Common Problems
Tomato hornworms are large (2 to 3 inch long when fully grown), green caterpillars with white stripes on the body. A horn protrudes from the top rear end of the worm. Tomato hornworms feed on the leaves and fruit. Several worms on one plant can quickly defoliate it and ruin developing fruit. Because their green coloring so closely resembles tomato foliage and stems, they are difficult to see. Handpick in cooler parts of the day or use suggested biological insecticides. If you see hornworms with small, white cocoons protruding, leave them alone. These structures are the pupae of parasitic insects that help control the hornworm population and the individual wearing them is already doomed.
Verticillium and fusarium wilts are soilborne diseases that cause yellowing of the leaves, wilting and premature death of plants. These diseases persist in gardens where susceptible plants are grown. Once they build up, the only practical control is the use of resistant (VF) varieties.
Early blight is characterized by dead brown spots that usually start on the lower leaves and spread up the plant. Upon close inspection, you can see concentric rings within the spots. Although early blight is most severe on the leaves, it sometimes occurs on the stems and can cause severe defoliation. Certain varieties (Roma and Supersonic) are more tolerant of early blight than others.
Septoria leafspot is characterized by numerous small black spots on the leaves. The centers of these spots later turn white and tiny black dots appear in the white centers. The disease starts on the bottom leaves and may become severe in wet weather.
Blossom-end rot is a dry, leathery brown rot of the blossom end of the fruit that is common in some seasons on tomatoes. It is caused by the combination of a localized calcium deficiency in the developing fruit and wide fluctuations of soil moisture. The problem is especially bad in hot weather. Soil applications of calcium seldom help, though foliar calcium sprays may minimize the occurrence of the problem. Make sure the formulation is designed for foliar application or severe damage could result. Pruning causes stress to the plants that may increase the incidence of blossom-end rot. Some tomato varieties are much more susceptible to this condition than others. Mulching and uniform watering help to prevent blossom-end rot. Once the blackened ends appear, affected fruits cannot be saved. They are best removed and destroyed so that healthy fruit setting later can develop more quickly.
Poor color and sunscald occur when high temperatures retard the development of full red color in tomatoes exposed directly to the hot sun. Sunscald occurs as a large, whitish area on the fruit during hot, dry weather. It becomes a problem when foliage has been lost through other diseases such as early blight or on early varieties that normally have poor foliage cover as the fruit ripens.
Free Tomatoes
Simply you have to apply for Free Tomatoes and will get your Free Tomatoes at your door step with no any cost.
Click Here
, if you are Interested to get Free Tomatoes. Advertise here