Sweet williams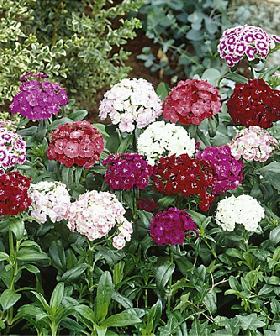 Sweet William is a colorful, biennial flower. It grows for two years, blooming in the second year. Native to Europe, this colorful, compact plant is grown all over the U.S.
Sweet William varieties include perennials and biennials. The perennials are often grown as annuals. Plants grow 7-18 inches tall, depending upon variety. Flowers blooms are produced in clusters in the spring. Colors include white, red, pink, crimson, scarlet, purple, and bi-colors.
The compact size of Sweet Williams make them great for containers and pots. Try them in a windowsill or vertical planter. In flower beds, put these small plants at the front of the garden. Despite their small size, they make good cut flowers. All they need for indoor splendor, is a small vase.
Sweet William has been a favorite in the flower border for generations. They are relatives of the carnation, and flower in shades of red, pink and white. Many forms, such as the 'Wee Willie' shown at left, are bicolors. They are easy to care for, and form neat mounds that seldom need pruning. These plants grow best in cool areas and are not suitable for tropical zones. Sweet Williams make excellent cut flowers and will last long if the water is changed regularly. They will bloom throughout the spring if spent blooms are picked off regularly.
Choose a location that receives full sun. Plants need well-drained, alkaline soil. Most gardners will need to adjust the pH of the soil by adding lime. Transplants should be set out in late summer or early spring. Place them four to six inches apart and keep them well-watered but not soggy until they are established. They will benefit from a monthly feeding. They don't handle the summer heat well, and the plants can be discarded when they are no longer attractive.
Propagation:
Sweet William are grown from seeds. They can be directly seeded into your flower garden, or seeded indoors for transplanting later. For spring blooms, start indoors six to eight weeks before the last frost. Young seedlings will transplant well into their permanent home.
Sow Sweet William seeds early in the season and cover lightly with 1/8" of fine garden or potting soil. Water thoroughly once.
Transplant Sweet William into your garden after the last frost date for your area. Space them six inches apart. They will tolerate a little crowding. They will look great filling in a flowerbed, or as a border edging.
Sweet William can also be grown from cuttings or plant division.
How to Grow Sweet William Plants:
Sweet William plants like full sun. They will tolerate a light shade. They prefer rich, loose soil that drains well. Add a general purpose fertilizer when planting them, then once a month after that.
Once your Sweet William are established, they should grow well with few problems. Keep the soil moist to slightly dry. Water them during dry periods, once or twice per week. Keep them well weeded, or apply a 2-3 inch layer of mulch for a tidy appearance.
Insect and Disease:
Nematodes can be a problem. Treat early with insecticides specific to nematode. If disease problems occur, treat early with fungicide.
Propagation:seeds
Light: full sun
Flower Color: shades of red, pink and white
Bloom Time: late winter and spring
Height: 12 to 14 inches -- dwarf forms 6 to 8 inches
Soil Requirements: well-drained, alkaline
Zones: not suitable for tropical areas
Uses: cutting, borders, windowboxes

Free Sweet williams
Simply you have to apply for Free Sweet williams and will get your Free Sweet williams at your door step with no any cost.
Click Here
, if you are Interested to get Free Sweet williams. Advertise here