Sweet pea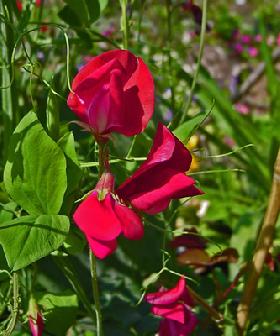 Sweet Pea is an annual climbing plant, growing to a height of 1-2 m, where suitable support is available. Sweet Pea Flowers bloom in lavender, pink, purple, red, white, yellow in colors among others, and are 2-3.5 cm broad. Sweet Peas are often grown by gardeners for their bright colours and the sweet fragrance that gives them their name.
There is a great deal of variation in the fragrance and intensity of smell in Sweet Pea flowers. The strength of fragrance of a Sweet Pea is sensuous and captivating and depends on a number of factors, such as rain, high temperatures, time of day and the age of the flower. Certainly, some of the older varieties from the Eckford lines are the most reliably fragrant Sweet Pea flowers.
Facts About Sweet Pea
In the genus Lathyrus, there are 110 species and innumerable cultivars. In broad terms, the genus is commonly known as vetchling or wild pea. Some garden peas (Pisum sativum), such as English peas, podded peas and snow peas are edible.
The leaves on the Sweet Pea vine are pinnate with two leaflets and a terminal tendril.
Sweet peas have been cultivated since the 17th century and a vast number of cultivars are commercially available.
Henry Eckford, who hybridized and selected Sweet Pea vines for their best characteristics, introduced the "Grandifloras", which revolutionized the Sweet Pea.
In 1901, Silas Cole, head gardener to the Earl of Spencer, found a natural mutation of Sweet Pea and thus called "Multiflora".
In recent years, New Zealand has also been a source of new Sweet Pea varieties, especially the with the breeding efforts of Dr. Keith Hammett. He made great strides in the development of new color patterns, many striped varieties, short day flowering, with a focus on fragrance.
English gardeners call Sweet Peas the Queen of Annuals. These alluring annuals stand uniquely among garden flowers with their vivid colors, fragrance, and length of bloom in the garden.
The fact that Sweet Pea flowers are long-lasting cut flowers is the icing on the cake. Several stems in a plain vase make a lovely country-style bouquet.
Unlike most peas, the seeds of the sweet pea (Lathyrus odoratus) are poisonous, and should not be eaten. Sweet pea flowers are also not edible and are poisonous.
Growing Sweet Peas
Choose a site in full sun with rich, well-drained soil.
Sweet Pea vines need full sun and rich, well drained soil.
Work in some compost before planting. Sweet Pea seeds should be sown directly where it is to grow.
Soak seeds overnight then plant about an inch deep and 3-4 inches apart.
Water thoroughly after planting, then restrict water until seeds germinate.
Fertilize every two to four weeks, or work in a slow-release fertilizer at planting time. Sweet peas are heavy feeders.
The Sweet Pea plant benefits from deadheading, but leave a few flowers at the end of theseason to seed for next year.
Sweet Pea Plant Care
Plant Sweet Peas in an area that gets good air circulation.
Water early in the day so the leaves are dry by nightfall; wet leaves are a magnet for fungus.
Do not over fertilize or you'll wind up with very deep green leaves but few flowers.
Alternatively,organic fertilizers are also excellent for Sweet Peas. Additional mulching with composted manure will help retain soil moisture and provide nutrients for strong plant growth and flowering.
If the blooms are not cut regularly, deadhead the plant as soon as flowers fade. Allowing the plant to produce seedpods will reduce overall flower production.
Removing spent blooms will ensure more blooms.
Do not grow sweet peas where other legumes are growing or grew last year.
Kingdom: Plantae

Division: Magnoliophyta

Class: Magnoliopsida

Order: Fabales

Family: Fabaceae

Subfamily: Faboideae

Tribe :Vicieae

Genus: Lathyrus

Species: odoratus
Free Sweet pea
Simply you have to apply for Free Sweet pea and will get your Free Sweet pea at your door step with no any cost.
Click Here
, if you are Interested to get Free Sweet pea. Advertise here