Spiderwort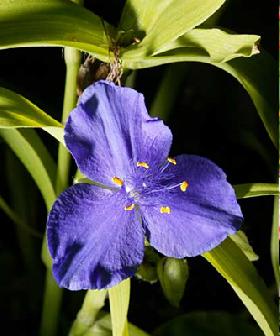 Spiderwort or Spider Wort; does it matter when there's something quite magical about early mornings in the garden?

The light is soft, the early birds are indeed looking for worms and greeting the rising sun with song, the breeze ruffles the longish grass in the field beyond my back lawn and everything seems right with the world.

This morning I wandered over to where I had planted some new perennials a few weeks ago and was delighted to see a single, shy blossom appearing on the spiderwort. This is particularly gratifying because this plant is one of the longest bloomers in the garden – carrying flowers from early June right through until fall if treated properly.

Tradescantia virginiana or spiderwort is the plant of choice today and I confess it has been on my collector list for several years now. It is a North American native plant named for John Tradescant senior (he died in 1638) a famous English gardener who received the species from Virginia sometime before 1629.

There is also the possibility that it was named after his son, John Tradescant junior, who was himself a notable gardener and who visited Virginia in the 1650's.

Both men were head gardeners to King Charles I of England and both were very serious plant collectors, traveling around the world in search of new plants for the King's garden.
For Heavy Blooms
There are two conditions however spiderwort must have if it is to bloom heavily.

The first is full sunshine. The more shade you present spider wort with, the fewer blooms it will produce. A light dusting of shade in the early morning or late afternoon is acceptable but you do want this plant to get as much sunlight as possible.

The second and equally important variable is soil moisture. Spiderwort demands constantly damp soil if it is to bloom continually. You can not put this plant in the full sun and allow the surrounding soil to dry out. It will quickly stop blooming if you do.

I plant my spiderwort around the pond where they are available for regular waterings as I top up the water level. I also mulch them heavily so the soil moisture stays constant and even below the mulch.

If It Dries Out
Here's a tip. If you mistreat spider wort by allowing it to dry out and it stops producing flowers, simply cut it back by half and start a weekly watering programme. It will respond with new growth and flower production in the fall.

If grown in a moist and fertile soil, not a boggy poorly-drained soil, spiderwort will grow to 24 inches tall and spread the same amount.

You'll find spider wort in most garden centres and the better ones will have the newer varieties.

Type: Herbaceous perennial.
Bloom: Blue, lilac, purple, pink, white flowers in late spring-early summer for about 8 weeks total.
Size: 24" W-36" H with ever enlarging clumps.
Light: Full sun to partial shade; in most climates will bloom better and be less lanky in sun.
Soil: Average well drained but tolerates most soils .
Fertilizer: Average soil provides all that is needed.
Hardiness: Zones 4-9.
Care: Cut back when foliage becomes unattractive to encourage another bloom.
Pests and Diseases: None of importance.
Propagation: By division in spring or autumn; self sows.
Companion plants: Grasses, daylilies, liriope, Siberian iris and hosta.
Free Spiderwort
Simply you have to apply for Free Spiderwort and will get your Free Spiderwort at your door step with no any cost.
Click Here
, if you are Interested to get Free Spiderwort. Advertise here