Snapdragon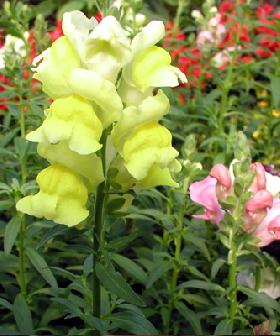 Snapdragons are a particular favorite of children who like to pinch the tiny individual blossoms and make the "dragon mouth" open and close. Their large, blossom-laden flower heads are faintly fragrant and come in in a wide assortment of bright colors. The vertical flower spikes, opening gradually from the bottom to the top, are available in two heights: dwarf varieties grow to about 10 inches while the taller types grow to a height of 18-24 inches. A vareity that grows up to 5 feet has been developed, but it must be staked. A single snapdragon plant may produce seven or eight blossom spikes in the course of a summer.
Snapdragons make excellent cutflowers and excel in beds and at the front of borders. Gardeners used to be less than enthusiastic about snapdragons as cut flowers because blossoms tended to "shatter"--drop off shortly after being fertilized by bees, but plant breeders have developed shatterproof strains. Snapdragons flourish in well-fertilized soil and full sun.
Snapdragons are especially useful because they're a cool-season annual, coming into their own in early spring when the warm-season annuals, such as marigolds and impatiens, are just being planted. They're also great for fall color.
Plant snapdragon in early spring, a few weeks before your region's last frost date. Deadhead regularly for best bloom and fertilize regularly. Snapdragons often self-seed in the landscape if not deadheaded, so they come back year after year, though the colors from hybrid plants will often will be muddy looking. In mild regions, the entire plant may overwinter if covered with mulch.
Sow seeds indoors eight weeks before the last frost. Moving seedlings outdoors as early as a the bed can be worked. They will tolerate frost. In Zones 8-10, seedlings started in a sheltered seedbed may be moved outdoors any time in the fall for winter and spring flowering. Plants should stand from 6 to 12 inches apart, depending on the size of the variety planted. Seedlings purchased from a garden center where conditions are carefully controled will usually bloom earlier than those started at home. If possible, choose rust resistant varieties. When the plants are 2 to 4 inches tall, pinch off the stem tips if shorter but more abundant flower spikes are desired.
Growing Snapdragon
In ancient times snapdragons (
Antirrhinum Majus
) were thought to have supernatural powers and offer protection from witchcraft. They were also believed to restore beauty and youthfulness to women. Growing snapdragon provides months of color ranging from pale pastels to vibrant reds and oranges. They are a favorite flower for cutting and fragrance. Native to southern Europe and the Mediterranean. Plants grow 1-3 feet tall. Self-seeding annual.
Site Preparation:
Snapdragons thrive in the cooler temperatures of late spring and do best in sunny locations with rich, well-drained soil. Plants will not flourish where temperatures are high for long periods of time. Blooms will tolerate some frost. Under favorable conditions, snapdragons will self-sow in the garden.
How to Plant:
May be grown from cuttings or from seed. If planting from seed, sow indoors on the surface of the soil for 8 weeks before last frost. Seeds will germinate in 10-20 days. For best results, sow in vermiculite and water from below. Plant outdoors after last frost. Pinch back young plants after 4-6 leaves have appeared to encourage a bushy habit and apply an all-purpose organic fertilizer for optimum plant health. Spent flowers should be picked often to encourage more blooms. If blooms become scarce, cut back plants drastically, then feed and water generously. Plants may need to be staked when young.
Tip: A heated seed mat will greatly improve germination success.
Insects and Disease:
Snapdragons will occasionally have problems with aphids and rust. Watch closely, and if problems exist, treat with natural pest controls.
Seed Saving Instructions:
Allow flowers to mature and fade on the plant. Seed pods develop at the base of the flower and turn light tan to brown when mature. Attach a lunch-sized paper bag around it using an elastic or string, catching the seeds as they fall. When the seeds are fully ripe, cut the stem at the base of the plant and shake the seed head inside the bag to dislodge the seeds from the casing.
Light: Sun,Part Sun

Plant Type: Annual

Plant Height: 1-4 feet tall

Plant Width: 6-12 inches wide

Flower Color: Red, pink, yellow, orange, or white flowers

Bloom Time: Blooms from spring to fall

Landscape Uses: Containers,Beds & Borders

Special Features: Flowers,Cut Flowers,Easy to Grow
Free Snapdragon
Simply you have to apply for Free Snapdragon and will get your Free Snapdragon at your door step with no any cost.
Click Here
, if you are Interested to get Free Snapdragon. Advertise here