Poplar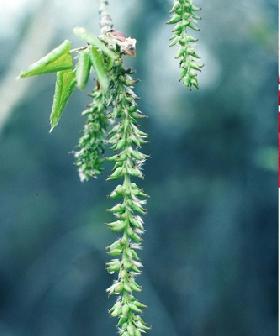 Poplars are one of the fastest-growing trees. They are extremely easy to grow, tolerating any soil type and any growing condition. Although poplars can consume a large amount of water, they tolerate draught; they thrive in the sun, but tolerate shady conditions. There are approximately 35 species of flowering poplars, ranging from medium to very large deciduous trees. Poplars flower in the spring, followed by leaves that vary in size and appearance for each tree. In fact, leaves on a single tree can vary in size. In the fall, leaves turn bright gold or yellow.
Poplars are often used to landscape newly developed neighborhoods because they mature so quickly. Poplars add shade and an established landscape in little time. They are perfect for privacy along property lines and are used as windscreens. Poplars reach a substantial size in three or four years. Bio-fuel researchers consider the poplar (which is harvestable in seven years) a potential source for ethanol fuel.
Uses:Landscape, Windscreens, Bio-fuel
Foliage:Yes
Flowering:Yes
Fragrant:Yes
Growing Ease:Will grow for anybody
Lighting Needs: Partial Shade to Full Sun
Soil Type: Any, adaptable
Flower Color: Yellow, White
Growth Rate: Fast
Hardiness Zones: Any
Height: 80 to 190 feet
Free Poplar
Simply you have to apply for Free Poplar and will get your Free Poplar at your door step with no any cost.
Click Here
, if you are Interested to get Free Poplar. Advertise here