Oleander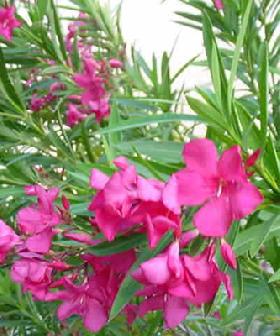 An attractive evergreen shrub for warm climates, oleander produces heavily scented, colorful flowers all summer and fall.
About This Plant
Oleanders bloom from summer to fall, with fragrant flowers in shades of apricot, copper, pink, lilac, red, purple, salmon, yellow, and white, depending on variety. The plants are best adapted to the west coast, southern states, Florida, and Texas and will withstand dry conditions and wind, as well as salty, marshy soils, making them popular in coastal regions. Oleanders grow 6 to 12 feet tall and wide, and some varieties can be trained to grow into small trees up to 20 feet tall. The flowers are very fragrant. All parts of plant are poisonous to humans and animals if ingested; the plant's sap can cause skin irritation in some individuals.
The Oleander is generally described as a perennial tree or shrub. This is not native to the U.S. (United States) and has its most active growth period in the spring and summer and fall . The Oleander has green foliage and inconspicuous red flowers, with a moderate amount of conspicuous brown fruits or seeds. The greatest bloom is usually observed in the summer, with fruit and seed production starting in the summer and continuing until fall. Leaves are retained year to year. The Oleander has a moderate life span relative to most other plant species and a rapid growth rate. At maturity, the typical Oleander will reach up to 12 feet high, with a maximum height at 20 years of 12 feet.
The Oleander is easily found in nurseries, garden stores and other plant dealers and distributors. It can be propagated by bare root, container, cuttings, seed. It has a slow ability to spread through seed production and the seedlings have low vigor. Note that cold stratification is not required for seed germination and the plant cannot survive exposure to temperatures below 14°F. has high tolerance to drought and restricted water conditions.
Special Features
Fragrant
Site Selection
Ideally, select a site with full sun to light shade and well-drained soil. However, oleanders are adaptable and will withstand dry conditions as well as marshy soils.
Planting Instructions
Plant in spring or fall. Space plants 6 to 12 feet apart, depending on variety. Dig a hole only as deep as the root ball and 2 to 3 times as wide. If your soil is in very poor condition, amend the soil you've removed from the hole with a small amount of compost. Otherwise don't amend it at all. Carefully remove the plant from the container and set it in the hole. Fill the hole half full with soil, then water it well to settle the soil and eliminate air pockets. Let the water drain, then fill the remainder of hole with soil and water thoroughly.
Care
Apply a layer of compost under the plant each spring, spreading it out to the dripline (the area under the outermost branches). Add a 2-inch layer of mulch to retain moisture and control weeds. Water plants during the summer if rainfall is less than 1 inch per week. Prune oleander after the main bloom period to encourage bushier growth and more flowers, and to reduce the size of the shrub.

Free Oleander
Simply you have to apply for Free Oleander and will get your Free Oleander at your door step with no any cost.
Click Here
, if you are Interested to get Free Oleander. Advertise here