Nasturtium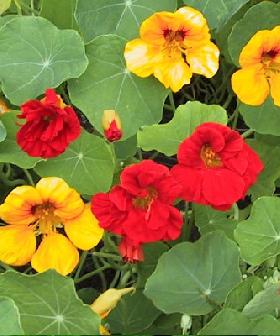 Nasturtiums plants grow very full, with spots of brightly colored blossoms poking out of masses of foliage. Leaves are rounded, like a water lily. The flowers are an open funnel shape with a curious little claw or spur on the underside. They are most often seen in rich shades of yellow, orange, , pink, red and mahogany but there are also varieties in subdued shades of butter yellow and cream. The 'Alaska' Series and the climbing 'Jewel of Africa' have variegated leaves.
Nasturtiums are loved for their rich, saturated jewel-toned colors. They are fast and easy to grow and, in fact, do best with a little neglect. There are varieties for almost every gardening purpose: bushy plants for borders and edges, trailing plants for walls and containers and climbers to add dramatic height in a garden. The leaves and flowers are edible, with a peppery tang, and even the seed pods are used as a substitute for capers.
Size:
Varies with variety.
Bushy plants can get to about 12" H - 18" W.
Trailing types grow about 3-4' H.
Climbers can get to 10'+ H.
Bloom Period:
Early summer through fall in cooler climates.
Fall through spring in milder climates.
Site Preparation
Choose a site with full sun and good drainage.


Planting
Sow Nasturtium seeds once the weather warms up, either in early spring or early summer depending on your location. Sow the seeds about 10 to 15 inches apart, and about 1 inch deep. Water immediately after planting. Then do not water for another 10 days. If you choose a climbing variety, make sure to provide a support for the plant and train it as it grows.


Care
Picking the flowers will make the plant bloom for a longer period of time, so pick away! The plant will bloom from early spring into the late autumn. Best of all, these annuals will reseed themselves. Water weekly, but do not feed the plant any fertilizer.


Choosing a Variety
Again, the variety is a matter of personal preference, as all the varieties of this species grow in the same conditions. If you like a bushy breed, you may want to look into the Alaska Series. These small, bushy plants have bright jewel-colored flowers that hold their necks above the foliage to avoid getting lost. If you are growing in a flowerbox, you may prefer Peach Melba, which will trail down over the box. A popular vine variety is Canary Creeper, which produces feathery, yellow blooms.


Special Features
These flowers go from seed to bloom very quickly. They're also great for kids who are just starting to garden: the taste of success could encourage a child into a life of gardening.


Free Nasturtium
Simply you have to apply for Free Nasturtium and will get your Free Nasturtium at your door step with no any cost.
Click Here
, if you are Interested to get Free Nasturtium. Advertise here