Mint plant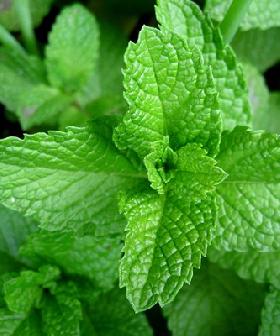 Mint is a perennial herb that is propagated by root division or rooting cuttings in water. The plant is invasive and should be grown in pots or in lengths of plastic pipe buried in the ground. It enjoys a damp location, shaded from strong afternoon sun, and rich soil. Pennyroyal is an attractive addition to hanging baskets. Mint planted outdoors should be mulched heavily to protect against frost.
The common types of mint are peppermint, pennyroyal, crinkle-leafed spearmint, spearmint, and applemint.
Pests and Diseases
Caterpillars
Caterpillars can usually be handpicked. They are repelled by wormwood spray or insect spray.
Rust
Rust appears as bright orange markings on the foliage of herbs such as mint and chives. Destroy all affected foliage. Do not place diseased plants or foliage in the compost bin. If a mild commercial copper spray does not curb the disease, destroy the plants.
Culinary Uses
Spearmint and crinkle-leafed spearmint are best for sauces. You can cook a few sprigs with peas and new potatoes to enhance the flavor.

Spearmint, peppermint and applemint sprigs can be added to drinks and fruit dishes as a garnish. It also makes a refreshing tea.

Peppermint makes an excellent flavoring for ice cream, chocolates, and other deserts.

Ginger-Scented Tomato and Cabbage Soup with Fresh Mint
Medicinal Uses
Peppermint is the mint of choice for medicinal purposes. It's many uses include the following:
The menthol in peppermint soothes the lining of the digestive tract an stimulates the production of bile, which is an essential digestive fluid. A hot cup of herbal tea is an excellent way to settle your stomach after a big meal.

There is a very good reason that peppermint is the flavoring of choice for toothpaste. Peppermint is an excellent breath freshener. When using peppermint tea as a breath freshener, increase the effectiveness by adding a pinch of anise, caraway or cinnamon.

Peppermint is reputed to have the calming, sedative effect.

Menthol vapors are famous for relieving nasal, sinus and chest congestion. Remember those minty-smelling ointments your mother rubbed on your chest when you were a child with a cold? You can also get relief with a steaming cup of peppermint tea. For a more effective cold remedy, combine peppermint with elder flower and yarrow. For a hacking cough, drink 3 to four cups of cool peppermint tea throughout the day, taking a sip every 15 to 30 minutes.
To make peppermint tea, use 1 to 2 teaspoons of dried peppermint leaves per cup of boiling water. Steep for 10 minutes.
Other uses
Pennyroyal, which is toxic when taken internally, has many other uses around the house.
Rub pennyroyal on the skin as an insect repellent. Since it has been known to irritate sensitive skin, test on a small patch of skin first.
Rub pennyroyal on your dog's coat to deter fleas. Try placing a few leaves in your pet's bed, too.
Plant under roses to retain moisture and improve the overall health of rose bushes.
Add to flowerboxes and hanging baskets for fragrance and beauty. All mints are good as cut flowers and foliage for indoor arrangements.

Use in potpourri.
Free Mint plant
Simply you have to apply for Free Mint plant and will get your Free Mint plant at your door step with no any cost.
Click Here
, if you are Interested to get Free Mint plant. Advertise here