Fountain grass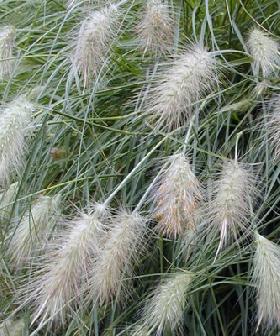 Fountain grass (Pennisetum) is a mound-forming ornamental grass and a garden favorite, as the care of fountain grass is easy. The cascading leaves on this plant have a fountain-like appearance. Clump-forming grasses grow in mounds or clumps, making them ideal for many areas without becoming invasive. It can be used alone as a specimen plant or in a border alongside other perennials.
Fountain grass is an attractive perennial grass densely clumped growth. Blooming of its foxtail-looking flowers generally takes place from late summer through the fall. The small flowers of fountain grass are tan, pink or purple. During fall and throughout winter, this plant will also reward gardeners with spectacular foliage displays.
Fountain Grass is a graceful, elegant ornamental grass with plumes resembling bottle brushes appear that in summer. These attractive flowers persist from summer until fall. The foliage arches near the tip and gives the plant a graceful fountain shape. It is suited for the residential landscape more than most other ornamental grasses because of its small size. Great for: Container plantings, rock gardens, borders, foundation plantings, massing, as a specimen or ground cover.
Common Name: Fountain Grass, Chinese Fountain Grass, Swamp Foxtail Grass
Botanical Name: Pennisetum
Plant Type:Ornamental Grass
Soil Preference: This plant tolerates drought and some salt. This plant will grow in moist soil. Suitable soil is well-drained/loamy, sandy or clay. The pH preference is an acidic to slightly alkaline (less than 6.8 to 7.7) soil.
Light Requirements: Full Sun
Attributes: Naturalizing, Attracts birds, Looks nice in flower arrangements, Deer Resistant
Pests: none serious
Diseases: none serious
Good Companion Plants: Aster, Black-Eyed Susan, Blanket Flower, Blue Star, Stonecrop, Wand Flower
Care: Propagation is from division and seeds in the fall and spring. Cut down to ground level in spring. Fertilize with Plant-tone approximately April 1st, May 20th, July 4th, August 15th & October 30th. Keep granular fertilizers off foliage and away from stems and trunks. Use 1/2 the recommended rate of fertilizer for new plantings.
Growing fountain grass
Growing fountain grass is easy. As with most ornamental grasses, fountain grass is extremely adaptable. Care of fountain grass is easy as well. It's sometimes helpful to cut back the foliage in the spring prior to growth. Although not specifically a requirement for fountain grass, fertilizer can be applied as growth resumes in the spring. Established plants do not need regular watering, except during periods of drought.
Fountain Grass does well nearly any type of soil; however, for greater results, fountain grass should be planted in fertile, well-drained soil. Fountain grass enjoys full sun but tolerates some light shade. Look for areas receiving full sun, as these plants prefer warm conditions. Warm-season grasses thrive in warmer temperatures ranging from 75 to 85 degrees F.
Transplanting fountain grass
Transplanting fountain grass is not always necessary; however, it can be dug up and divided in areas where overcrowding may occur or if more plants are simply desired. Division usually depends on spacing or visual appearance. For instance, plants suffering from die-out in the center can be divided to improve their appearance. Division can be performed in early spring prior to new growth or after the growing season in the late summer or fall.
Taking care of fountain grass is a rewarding undertaking for a gardener. By growing fountain grass, you add a low maintenance option to your garden.
Free Fountain grass
Simply you have to apply for Free Fountain grass and will get your Free Fountain grass at your door step with no any cost.
Click Here
, if you are Interested to get Free Fountain grass. Advertise here