Dusty Miller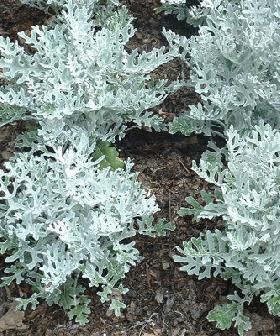 Dusty Miller is grown primarily for its attractive silver-gray foliage rather than its yellow flowers. In fact, most gardeners prefer to cut off the flowers to encourage leaf growth. The plant is often grown in formal bedding schemes, but looks equally effective in informal or cottage-style designs. Dusty Miller is a nice addition to a colorful container garden, and makes a nice edging for your borders when combined with Love-in-a-Mist.
This southern European native can be grown as a perennial in Zones 9-10, and as an annual in Zones 3-8. Height is between 8 and 15 inches as annuals, but in Zones 9-10 some varieties grow 2 to 2 1/2 feet tall, spreading the blunt-tipped lobes of their 6- to 8-inch leaves equally wide and sending up 2 1/2- to 3-inch flat-topped clusters of tiny yellow flowers the second year.
Dusty miller can be sown directly in the garden or rooted from cuttings of the firm central growth. Plants will grow well in most any soil, but if the soil is poorly drained the roots will rot. Water regularly until the plants are established, then restrict to a good soaking once every week to ten days. Side dressing isn\'t usually necessary, but some bone meal or pelleted poultry manure can be applied when plants are 4 to 6 inches high.
The foliage looks good in cut arrangements. Cut and soak the base of the stem before arranging.
Good news for rural gardeners: Dusty Miller is Deer Resistant! Dusty Miller are an easy to grow perennial. Dusty Miller is grown for it\'s silvery-gray, fern-like foliage. Dusty Miller makes terrific border and edging plants, offering a striking contrast to the colorful flowers and green colors of  your lawn and garden.
Propagation:
Dusty Miller are grown from seed. They can be directly seeded into your flower garden, or started indoors for transplanting later. Or, you can sow Dusty Miller seeds outdoors, two to three weeks before the last frost in your area. In southern areas of the country, they can be directly seeded into your garden in the fall.
Start Dust Miller plants indoors, six to eight weeks before the last frost in your area, will give an early start for these showy plants.
Sow seeds early in the season, covering lightly with soil. Final spacing for the plants is 10\"-12\" apart. They will tolerate a little crowding.
How to Grow Dusty Miller:
Dusty Miller are very easy to grow. Once established, they will thrive for several years. Note, in some areas, Dusty Miller are grown as annuals.
Dusty Miller prefers a warm climate, full sun, and a rich, well drained soil. Mix in plenty of compost prior to the first planting. Add organic mulch each season to replenish the soil. Water them during dry periods, once or twice per week. Add a general purpose fertilizer once or twice a month.
Dusty Miller will grow tall, 10\" - 18\" tall.  They will produce flowers. Many people remove them, or pinch back the buds to promote leaf growth.Trim plants as desired, to maintain an attractive shape.
Insect and Disease:
Dusty Miller are resistant to insects and disease. If insect or disease problems occur, treat early with organic or chemical insect repellents and fungicide.
Type: annual (or biennial)
Propagation: seeds, cuttings
Light: full sun
Flower Color: pink, rose, lavender, white, blue
Bloom Time: summer
Height: 12-18 inches
Width

:

12-18 inches
Soil Requirements: well drained; grows as well in poor soil as rich
Zones

:

all
Uses

:

bed, border, cutflowers
Free Dusty Miller
Simply you have to apply for Free Dusty Miller and will get your Free Dusty Miller at your door step with no any cost.
Click Here
, if you are Interested to get Free Dusty Miller. Advertise here