Corkscrew willow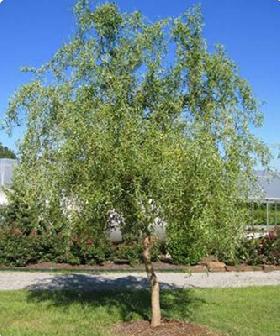 The corkscrew willow tree is the same plant as the curly willow tree. Like most willow trees, it grows very fast, ten to fifteen feet per year. So, if you have a spot where you want an instantly large tree, you won't have to wait very long for it to grow. Just remember that like all willow trees, the roots are very shallow and actually push upward as the tree ages. They can crack walkways, driveways, even foundations, and get tangled in water and sewer lines.
The corkscrew willow tree will grow to a modest thirty feet tall. It has a unique branch structure where the branches angle upwards before reaching out from the trunk horizontally. This makes for some unusual branch crotch spacing which does not stabilize the tree. As the tree ages, it can become susceptible to branch damage from storms and wind. The branches reach out to about fifteen feet in length and the tree is around thirty feet tall.
Most people choose a corkscrew willow tree because of its speedy growth and looks. Not only is the branch structure quite unique, the tree has foliage that turns a nice yellow color in the fall. Like many willows, you can leave an appearance with several trunks growing concurrently or prune the tree so that it grows to have only one large trunk.
If you want to propagate the corkscrew willow tree, you can do so by taking cuttings from your tree and planting new ones. You can root them in water which takes around two weeks. Once you have roots growing, you can plant your tree in the ground. Just dig a hole which is twice as big as the cutting and center your little plant in the center of it. These willow trees like you to prepare the soil to contain a mix of peat moss and sand. As with any new tree, water it well and keep the soil moist until new growth appears.
Willows grow just about anywhere. They are not fussy about the type of soil, being wet or dry, or having lots of sunshine or partial shade. You basically can just plant this tree and it will take care of itself. It does have some pests, including willow leaf beetles, gypsy moths and aphids. These should not be a major problem but watch for holes in your tree's leaves and treat right away if an infestation. Your county agricultural extension agent can recommend organic treatments or insecticides.
Check on your tree daily when it is young so that you can catch any pests or diseases right away. Crown gall is one of the worst because it attacks the trunk and root system of the plant, covering it with hard gall spots which will take nutrients from the tree, causing it to eventually die. Willow scab, black canker and fungi diseases also bother the corkscrew willow tree.
The healthier your willow tree is, the less apt it is to get pests or diseases. They feed on the unhealthiest trees. Keep your willow well-watered and happy with plenty of fertilizer and it will respond in kind with phenomenal growth. You can prune it by pinching off the top to stop upward growth to make the tree bushier.
This is not a terribly long-lasting tree as trees go, probably not living beyond twenty or thirty years. The branch structure will contribute to its eventual demise. But during the time it's there you will have a nice looking willow which gives lots of shade to your yard. Planting a few will serve as hedge to give you privacy as well.
Characteristics
Requirements
Free Corkscrew willow
Simply you have to apply for Free Corkscrew willow and will get your Free Corkscrew willow at your door step with no any cost.
Click Here
, if you are Interested to get Free Corkscrew willow. Advertise here