Confederate jasmine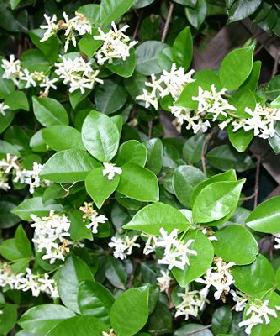 The Confederate Jasmine (Jasminoides) is generally described as a perennial vine. This is not native to the U.S. (United States) and has its most active growth period in the spring and summer . The Confederate Jasmine (Jasminoides) has dark green foliage and inconspicuous orange flowers, with conspicuous fruits or seeds. Leaves are retained year to year. The Confederate Jasmine (Jasminoides) has a long life span relative to most other plant species and a rapid growth rate. At maturity, the typical Confederate Jasmine (Jasminoides) will reach up to 2 feet high, with a maximum height at 20 years of 2 feet.
The Confederate Jasmine (Jasminoides) is easily found in nurseries, garden stores and other plant dealers and distributors. It can be propagated by bare root, container, cuttings. Note that cold stratification is not required for seed germination and the plant cannot survive exposure to temperatures below 7°F. has medium tolerance to drought and restricted water conditions.
Confederate Jasmine is a highly fragrant evergreen vine well suited for indoors or in your landscape or in pots zones 8-10
This fine jasmine scented vine is happy to bloom in partial sun to shaded conditions and also blooms well indoors.
The flowers are sweetly fragrant, about 1" in diameter, 5-petaled, cream-white (with a tinge of yellow) in some blooms. In Florida we often see folks who love to decorate their mailboxes with Confederate Jasmine.Confederate Jasmine is an energetic, fast growing vine that can reach 25 feet if you let it. Side shoots allow you to control width so you can cover large areas with just a few plants,It is called as a star jasmine.It is a fine climber, has no tendrils to grip, but it twists around whatever it touche.
Extremely easy to care for, plant wants good soil, consistent soil moisture and partial shade. It can handle cold snaps down to about 16 degrees, so warm zone 8 through all of zone 9 & 10 are fine outdoors. The plant produces an abundance of fragrant flowers, from spring throughout all the warm months. Happy plants can have some flowers 12 months a year.Indoors or out, you can enjoy Confederate Jasmine. The plants we are offering are 4-7 inches long, well rooted and ready for your home, in pots or in your landscape.
Free Confederate jasmine
Simply you have to apply for Free Confederate jasmine and will get your Free Confederate jasmine at your door step with no any cost.
Click Here
, if you are Interested to get Free Confederate jasmine. Advertise here