Coneflower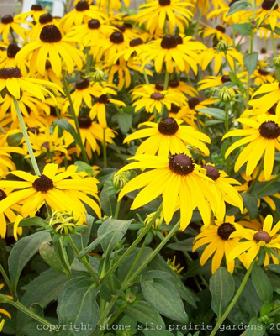 The flowers are shaped like a Black-Eyed Susan's with sturdy orange-bronze cones and petals in shades of pink, red, purple and white. They do best in full sun but will take some shade, and are tolerant of hot, dry, windy sites. Plant with Rudbeckia, Stokesia, Ornamental Grasses and Salvia. Also best if used in borders, meadows, butterfly gardens, masses, small gardens and containers. The dead flower stems will remain erect well into the winter and, if flower heads are not removed, are often visited by goldfinches who perch on or just below the blackened cones to feed on the seeds.
Our own native Echinacea purpurea or Purple Cone flower is one of the best perennial flowers for late summer and early fall.
It is a member of the compositae family; which is just a botanist's way of saying it belongs to the
daisy family and anybody who ever looked at one could have told them that anyway.
Herbal Use
Many of you will no doubt be familiar with the cone flower for its herbal use. Its roots are used as an immune booster – if taken for a few days before a cold really sets in it is purported to ward off the worst effects of the virus. A word of caution here to the wise – recent studies have shown that it should only be taken for a few days or one week at the most. Prolonged use reduces its effect.
Personally, I'm not sure which of the resins, fatty acids, glycosides or other more esoteric compounds of the cone flower is supposed to accomplish this task, I am sure however of a 1915 study that found Echinacea had no antibacterial or aphrodisiac powers. So, it is safe to take for a cold with no secondary side effects.
Growing Conditions
The entire family of cone flower or Echinacea loves the open sunny garden. It thrives in drier gardens than most other plants so it is a good plant for that hot, dry spot.
Do water it to establish new plantings but once established, it can thrive on its own. The really nice thing about this plant is that it will also tolerate some light shade and good soil.
The only thing that will shorten the cone flower lifespan is heavy clay soils or constantly damp soils; it does not like to have its roots constantly wet. It likes good drainage.
I have found the plant does really well in moderately fertile soils and if there is enough water in mid summer when it is setting seed, there is no problem with obtaining more plants.
Propagation
The cone flower self-sows prolifically in my garden. You can propagate them from seed collected from a friend's garden, or whacking off a division from an established plant will easily transfer plants between friends. For the botanically interested, you can also propagate this one by root cuttings. So, if you have one of the nicer forms that doesn't come true from seed, division or root cuttings will easily increase the numbers.

Mature Height: 28 inches
Mature Width: 30 inches
Bloom Size: 3.5"
Form: Medium
Growth Rate: Fast
Light: Sun
Flower Color: Dark Yellow
Foliage Color: Green
Zone: 4-8

Free Coneflower
Simply you have to apply for Free Coneflower and will get your Free Coneflower at your door step with no any cost.
Click Here
, if you are Interested to get Free Coneflower. Advertise here