Columbine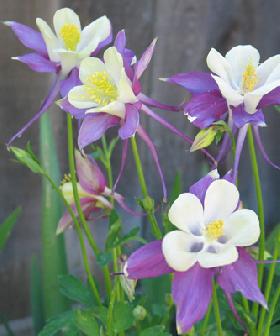 The common name for Aquilegia is Columbine and this comes from the latin meaning "dove". The next time you see an aquilegia flower, turn it upside down and see if it doesn't resemble a circle of doves sitting around drinking.
This plant is a late spring or early summer bloomer for the full sun. It will take very light shade and continue to bloom. In the South, you'll find it will take more shade as the heat is more prolonged and intense.
Planting
Height varies from three inches to over thirty inches and each variety will grow taller in warmer climates. Plant the taller varieties twelve inches apart and the shorter varieties 6 inches apart. And you'll see blooms in shades of pink, blues, whites and yellows as well as combinations of them.
Columbine prefer a decent soil but certainly one that is well-drained is the order of the day (sorry, no clay soils for this plant or it will die over the winter).
Propagation
We propagate it from seed and oh, how we do so. This is one of the most promiscuous of flowers, producing large numbers of seed and if you have two distinct species in your garden, it will not take long to have hybrids. Also, because they tend to be short lived plants (3 years more or less) you need to keep new ones coming along from seed. This presents a small problem with the hybrid varieties as the offspring is not guaranteed to come true from seed. Heck even the species have to have an entire city block between them to keep them from cross breeding.

Work this to your advantage. Pick the plants you like and allow them to set seed. Pull out any you do not like and do not let them set seed. Eventually, you'll wind up with some pretty good looking plants that are "all yours".
Bloom Time & Color:
Columbines will bloom in early to mid-spring each year with fabulous 5 spurred petals sitting above 5 petal-like sepals that combine to create beautiful color combinations. Blossom colors range from blue and white to yellow, red or pink. More colors are becoming available to home gardeners each year as new cultivars are released. Expect blooms the second year unless you purchase already established plants.
Foliage:
The foliage of the columbine provides year round interest even when the plant isn't in bloom. The foliage rosettes turn a maroon color in the fall and remain attractive throughout the formant season. Most varieties have deeply lobed leaves that are beautiful in any bed or border.
Seasons of Interest:
Spring is the time to enjoy the beautiful blooms of the Aquilegia, while summer and autumn brings the deep green, finely-lobed foliage to the eye. Late autumn and winter finds the foliage turning deep purple or maroon to keep interest through the winter as well.
Uses in the Garden:
The columbine has been a long-time favorite in cottage and heirloom gardens for generations. It is also used in cut flower borders because the highly attractive blooms are long-lasting in a vase of water. Consider adding Aquilegia to rock gardens, shady border or in masses along walks or drives as well.
Other Uses:
Columbine flowers make excellent cut flowers to add to indoor flower arrangements.
Insect Problem
The major insect problem with this plant is the leaf miner. You'll see tunnels (whitish lines – irregular directions) on the infected leaf and this is simply a small worm happily eating its way around between the layers of the leaf. You can't reach it with sprays so the easiest thing to do is squeeze the ends of the tunnels to kill the small worm.

Some forms such as A. canadensis and A. bertolonii are not as susceptible to leaf miners but they all eventually get it.
Free Columbine
Simply you have to apply for Free Columbine and will get your Free Columbine at your door step with no any cost.
Click Here
, if you are Interested to get Free Columbine. Advertise here