Eucalyptus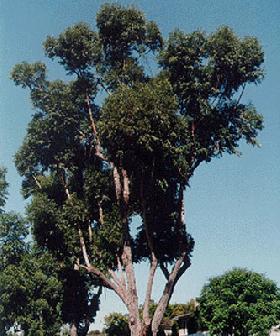 Instructions
Choose a variety suited for your region and landscape. Cider gum and snow gum are hardy to 15 degrees in a protected location. Silver dollar gum and the silver-leaved mountain gum are popular in floral arrangements. Coral gum and rose mallee have showy flowers.
Start eucalyptus from seed in late winter. Sow seeds in moist sphagnum moss and place container in a warm, sunny location. Germination takes one month. The Eucalyptus can adapt to almost any soil type. Outdoor Eucalyptus should be planted in a sunny location with plenty of room to expand. Some varieties do not require full sun but a majority of species of Eucalyptus do. Water the tree fully before and after planting. Water regularly after planting and you should not let the tree completely dry out while it is still vulnerable. Allow the tree to grow naturally without staking. The Eucalyptus needs to grow a strong trunk system if it is to survive in windy conditions. After the tree has become established, it will require very little care.
Select small, vigorous specimens if you purchase container grown plants. Remove the plant from the container and reject root-bound plants.
Grow eucalyptus indoors in northern regions. Trees grown indoors don't flower, but you can still enjoy fragrant bluish-green foliage for bouquets. Move the container outdoors during the summer and keep in a south-facing window in winter. Outdoor Eucalyptus will have other factors that growers should consider. Most importantly, the tree or plant needs to be planted as soon as possible after purchasing. For climates that are prone to hot-dry summers, plant the Eucalyptus during the rainy season to early autumn.
Watch for yellow leaves which indicate chlorosis, a condition caused by iron deficiencies in heavy soils. Treat by administering iron chelate to the soil around the tree.
Guard your eucalyptus from the long-horned borer. Stressed trees are susceptible to this pest. Yellow leaves and sparse canopies are signs of infestation. Use a sealant on pruned branches to prevent leaking sap from attracting the borer.
Pruning
Growers who prune their Eucalyptus know that this tree will sprout new growth on the larger limbs when it is cut. However, it is extremely important to not prune Eucalyptus in the fall months if your area is prone to cold weather. The limbs that are pruned need time to heal as frost can damage the cut site which can kill the entire tree. Remove the lower limbs of the tree only after they have died naturally. The Eucalyptus is known to be top heavy and needs the lower limbs to keep it stable.
Light: Sun
Zones: 8-10
Plant Type: Tree
Plant Height:50-160 feet tall
Plant Width: 10-70 feet wide
Landscape Uses: Containers,Beds & Borders,Privacy,Slopes,Groundcover
Special Features: Flowers,Attractive Foliage,Fragrant,Winter Interest,Cut Flowers,Dried Flowers,Attracts Birds,Attracts Hummingbirds,Attracts Butterflies
Free Eucalyptus
Simply you have to apply for Free Eucalyptus and will get your Free Eucalyptus at your door step with no any cost.
Click Here
, if you are Interested to get Free Eucalyptus. Advertise here