Blue pickerel weed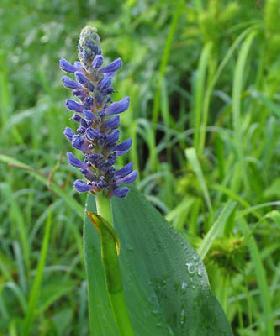 This native perennial plant is about 1-3' tall, consisting of a loose clump of basal leaves and occasional flowering stalks. The basal leaves develop directly from the rootstock. The blades of these leaves are up to 6" long and 2-4" across across; the width of the blades can be highly variable. They are lanceolate-sagittate to oval-cordate in shape, medium green, smooth along the margins, and hairless. Along the upper surface, there are many fine parallel veins. The petioles of the basal leaves are as long as the blades or even longer; they are light to medium green, terete (round in cross-section), hairless, hollow, and rather stout. The unbranched flowering stalks are 1-3' long and ascending to erect; similar to the petioles, they are light green, terete, hairless, hollow, and stout. Each flowering stalk bears a single leaf that is similar to the basal leaves, except the base of its petiole is wrapped in a light green sheath. The stalk terminates in a single floral spike up to 5" long. Underneath this spike, there is a light green sheath that wraps around the stalk. Above this sheath, the central axis of the floral spike is glandular-pubescent. The blue-violet flowers and their buds are densely arranged all around the spike; a large spike can produce 100 or more flowers, although they don't bloom all at the same time. Each flower spans up to ½" across when it is fully open; the short blue-violet corolla has 6 slender lobes (3 upper & 3 lower ones), which spread outward from the throat of the flower. The uppermost lobe has a pair of greenish yellow spots that probably function as nectar guides for visiting insects. The reproductive organs of the flower consist of a single style and 6 stamens of variable length (usually 3 long stamens & 3 short stamens). Because of this variation, there are three different morphological forms of the flower. The blooming period occurs during the summer and early fall and can last several months for a colony of plants. However, individual flowers last only a day or two. The mature fruit of each flower has 3 cells, but only one of them develops a seed. This seed is large in size. The root system consists of long-running rhizomes and coarse fibrous roots. Vegetative colonies are often produced; sometimes, they can become quite large.
Pickerelweed starts blooming in June and continues until November. Bees and other insects pollinate the flowers. After a flower has been pollinated, it dies and a fruit grows.
The fruits of this plant are small and contain one seed each. The seeds are a good food source for ducks and muskrats.
Muskrats also eat the leaves, as do White-tailed Deer and geese.
The leaves and stems of Pickerelweed provide good cover for birds, swimming mammals, fish, reptiles, amphibians, and insects.
Requirements:
Soil Type - wet, clay, Slightly acidic
Water - Ponds, saturated soils
Light - Full sun
Characteristics:
Flower colors - Blue
Height - 1 to 4 ft
Time of bloom - July - September
Propagation - Division
Transplants - Easy
Free Blue pickerel weed
Simply you have to apply for Free Blue pickerel weed and will get your Free Blue pickerel weed at your door step with no any cost.
Click Here
, if you are Interested to get Free Blue pickerel weed. Advertise here